My sewing this week has been on a
Kite Flight Kit
using a roll-up and yardage. It's a strip pieced pattern with subcutting and sewing segments back together. I'm loving how it's coming together on my design wall and can't wait to finish it! By adding a 3-4" strip of red around the edge, it will end up twin size. I'm still trying to figure out what fabric to use for the backing, and I'm hoping to find something at Craftsy's weekend supply sale.
I purchased this kit last year from Craftsy. It's been such a bestseller that they are still stocking it. The current
Kite Flight Kit
uses a Robert Kaufman Summer roll-up and a white background. It's such a different look than the red background, so fresh and springy, and I love it, too!
Kite Flight is one of hundreds of quilting kits and fabrics on sale this weekend at Craftsy! Someday, somehow, I'd love to make this
Fancy Forest quilt
! It's on my bucket list and fairly near the top! I've just the place to hang it in my house! I'm having so much fun this year sewing for myself that this really could happen this year!
And I WILL be making this
Gradations Trip Around the World
- because I own the kit already!!! I can't wait to dive into this project! I've read through the instructions, and it isn't complicated at all, in case you were concerned about that. I know I'll enjoy just sitting and doing relaxing sewing with my pedal to the metal!! I plan to hang this on the wall in my living room as fall and winter decorations. It's just so cozy!
Let me know what you find!
Don't forget that Saturday, May 7th, is Yard Sale Saturday here at Busy Hands Quilts! Get your items ready to sell, create a post, and link-up here on May 7th!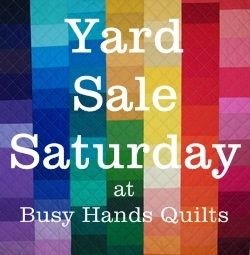 Linking to:
♥
Can I Get a Whoop Whoop?!?
♥
Fabric Frenzy Friday
♥
MOP Monday
♥
Podunk Pickins
♥