A few weeks ago I was looking through my stash for a quilt kit to make because I didn't want to pick fabric for a pattern. That was more work than my brain could handle that day! My eye fell upon this quilt kit from Connecting Threads called Snow Frolic by Mari Martin. It was due to be completed, having been in my stash for over a year!
This fun quilt does not shout "Christmas!", so it can be displayed all winter long; not just for the few weeks of Christmas!
Measures 36" wide x 45" tall.
With a background of light blue clouds, snow bunnies abound as they ski, skate, and sled in the midst of snowballs. Appliqued snow bears with buttons for eyes, noses, and shirts, with embroidered arms and mouths are most adorable. I chose a diagonal grid for the quilting design, giving it a wintry argyle look. Backing is a solid white. A double layer of candy cane stripe fabric binding completes this little lovely. The quilt lies flat with straight edges and square, mitered corners. There is a hanging rod pocket across the top of the back for easy hanging!
Linking to:
Crazy Mom Quilts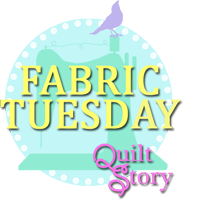 Tuesday Archives 12/15/2015