A friend recently had a teeny tiny, precious baby girl. I knew I'd make her a quilt - quilters just seem to do that! My dilemma was that she herself sews and makes quilts, so I wanted to make something unique and unusual that she wouldn't likely make herself. Ah ha, I thought, I have just the pattern on hand -
Tickle and Hide's
Drawstring Playmat.
Reversible, no less.
Draw up the ties, and it's a bag to hold a toy stash ...
Pull out the edges, and it's a playmat!
I have been watching Strip Your Stash, a Craftsy class, and learned a simple technique for creating straight seams on strip sets like this. It worked like a charm, and my strip sets were straight even before ironing and remained that way.
I ♥ the 3D look of the backing fabric!
There is a layer of batting between the two layers of fabric. Somehow the batting scrap that was inside of a fusible batting bag in my closet was not fusible, and so as not to waste it since I had already cut the six edges, I had to pin the layers, which is not normal for me. I use fusible batting for baby-sized and smaller quilts and regular batting on the long-arm for lap size and larger.
To quilt the playmat I used my walking foot and the wavy stitch as wide and long as possible, stitching on both sides of each seam. I survived the pins but once again confirmed that I ♥ fusible batting!
I now know why Tickle and Hide sells these quilted bags for $152...!!! There are a lot of steps to the binding and drawstring sleeves!
Quilt Stats:
Pattern: Drawstring quilted playmat by Tickle and Hide on Etsy.
Fabric: That luscious fabric is a Technicolor Strip Roll by Emily Herrick for Michael Miller, along with a few Kona Solids, a Flower Sugar by Lecien, an Amy Butler print, and a Happy Tones print.
Size: 40-ish inches across
Batting: 100% cotton
Backing: Technicolor Cubix
Binding: Kona Pink
Drawstring and Sleeves: Technicolor print
Value: Uniquely one-of-a-kind and so practical!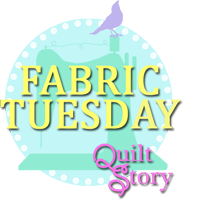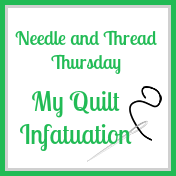 Let's Make Baby Quilts June 2015