... I'll let the pictures tell the story ...
... She is super warm and cozy ...
... makes me miss having Thimbleberries fabrics in my living room ...
... Thimbleberries floral beige backing ...
... black allover meandering quilting ...
I just have to show you our platform ladder. It is wooden, very old and heavy, and perfect for hanging up the quilt rack. What looks like the top rung is actually a platform to stand on! I can't imagine trying to get the quilt rack attached to the wall while balancing on a standard ladder!
Quilt Stats:
Pattern: Scrappy string strip quilt with black strips down the center of the block and beige strips in the second strip from each corner to create the black grid and beige sub pattern.
Size: 80" square
Fabric: Thimbleberries Sweet Home and other Thimbleberries fabrics; Moda Marbles in Black.
Batting: 100% cotton, thin
Backing: Thimbleberries beige floral
Quilting: All over meandering in black polyester thread on Mrs.Singer, my vintage 1896 31-15 industrial machine which is mounted on a long-arm quilting frame.
Value: Super warm and cozy!
Linking to: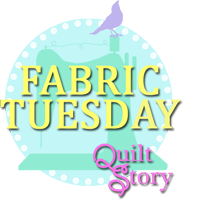 :
Tuesday Archives
: