I've finished my wall hanging for the
Spangled Stars Quilt Along
! The "star" colors were changed to look like flowers. I also changed the orientation of the striped blocks in the top and bottom rows to horizontal so they look like they encircle the quilt more.
Pattern: Spangled Stars
Size: 39" square
Fabric: Kona solids
Batting: 80/20 fusible
Backing/Binding: Seaside Cottage by Heather Mulder Peterson for Anka's Treasures. Binding double fold, attached by machine.
Quilting: Allover meandering stitch in aqua thread on Mrs.Bernina, my old 830.
Label: Quilt Labels at Ikaprint.
This quilt was featured at Quilt Story!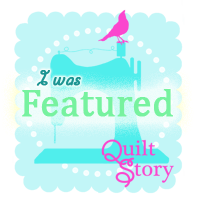 Linking to:
That's 80 - 6.5" triangles.
Regularly $130.
These are a very tiny sampling of what's on sale at Craftsy through June 21st! There are lots more quilt kits, fabrics, and notions, not to mention yarn and other crafting items for which Craftsy is famous!